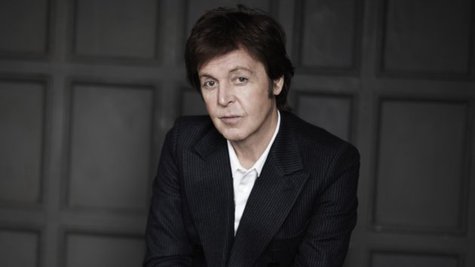 Legendary music producer Phil Ramone died Saturday at the age of 79 following hospitalization for an aortic aneurysm. Even if you've never heard of him, chances are Ramone produced some of your favorite songs, and some of music's biggest names have taken to Twitter, Facebook and elsewhere to mourn him.
Paul McCartney , who first collaborated with Ramone during the recording of his 1971 single "Another Day," has posted a tribute to the late producer on his official website . "Phil was a great friend of mine for many years," writes Sir Paul. "He was a very sweet man who combined this with expert knowledge of both engineering and production. I'll always remember him as a great friend that I knew, loved and admired over the many years that we worked and played together."
Elton John , who worked with Ramone on his Vegas show The Red Piano , posted a message on his own website calling him "a friend, a musical genius and the most lovable person." The Rocket Man adds, "It was a thrill for me to have worked with Phil, and I have so many wonderful memories."
According to USA Today , Stevie Wonder said in a statement, "What a heart break to all of us who knew him and loved him. What a great man, what a kind spirit, such an incredible producer. The star of stars behind the stars. Phil will be missed always. Truly a tragic loss for us on earth but what a wonderful blessing for heaven. As I've always said, Love you Phil, God Bless."
Aretha Franklin issued her own message about Ramone that can be read on her Facebook page . "This is so shocking," she says. "I just performed for his tribute in December. Truly one of the great names in music has gone on, but the melodies will remain."
The band Chicago , whose Hot Streets and Chicago 13 albums were co-produced by Ramone, posted on its Twitter account , "His legacy will live on with us and the world always -- R.I.P. Phil Ramone."
Barbra Streisand , who worked with Ramone many times, posted a note on her official website : "I'm so saddened to learn of Phil's passing. We first worked together in 1967 when I did a free concert in Central Park. His brilliance at capturing sound was immediately evident. Later we worked together on the film A Star Is Born where Phil was able to record me singing live, including Evergreen . In the next decade we worked on the soundtrack to Yentl and many other recordings."
Streisand added, "Phil had impeccable musical taste, great ears and the most gentle way of bringing out the best in all the artists he worked with. The monumental recordings he produced will endure for all time."
Bette Midler tweeted , "Phil Ramone, a giant in the recording world; kind beyond words. Goodbye."
Gloria Estefan , who most recently worked with Ramone on Tony Bennett 's 2012 album Viva Duets , wrote , "Sending prayers & good thoughts 2the loved ones of our dear friend & colleague, the unequaled, Phil Ramone. RIP, friend, we will miss u always!"
Bennett himself posted on Facebook , " Phil Ramone was a lovely person and a very gifted musician and producer. It was a joy to have him work with me in the recording studio on so many projects as he had a wonderful sense of humor and a deep love of music. Phil had the admiration and respect from everyone in the entertainment industry and his passing is a great loss."
Ex- Band guitarist/songwriter Robbie Robertson , who has known Ramone since the early days of his old group, saluted Phil on his official Facebook page . "I am deeply saddened to hear my friend Phil Ramone passed away," Robertson writes. "I am currently doing a new mix on an album we worked on together many years ago. He was a true sonic genius and a brilliant, versatile record producer. They just don't make 'em like that no more."
Among the many, many other artists Ramone worked with over the years: Billy Joel , Rod Stewart , Paul Simon , Bob Dylan , Carly Simon , Kenny Loggins , Madonna , Cyndi Lauper , Phoebe Snow , The Band , Julian Lennon , Michael Bolton and Ray Charles .
Copyright 2013 ABC News Radio