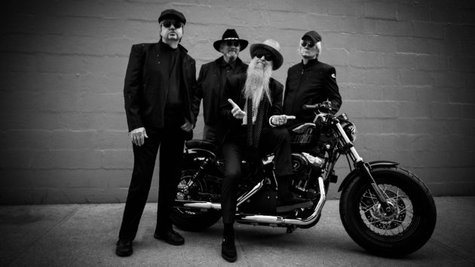 ZZ Top frontman Billy Gibbons reunited with his old psychedelic-blues group The Moving Sidewalks on Saturday in New York City to perform for the first time in nearly 44 years. The show, which took place at B.B. King Blues Bar & Grill, featured the quartet playing a healthy helping of tunes from the group's recently released compilation, The Moving Sidewalks: The Complete Collection , as well as a few select cover tunes.
The Sidewalks' set included such gems as their early singles "99th Floor" and "Need Me"; several songs from the group's lone studio album, 1969's Flash ; and a trio of tunes from the band's biggest influence, Jimi Hendrix -- "Foxy Lady," "Red House" and "If 6 Was 9." Gibbons and company brought things to a close with their "Fab Four-meets-Hendrix" rendition of The Beatles ' "I Want to Hold Your Hand." Those curious about how The Sidewalks sounded on Saturday can check out a bevy of fan-shot footage that's made its way online.
Speaking the day before the show with ABC News Radio, Gibbons admitted that he was pleasantly surprised at how easily things came together once he and his old band mates began rehearsing again.
"One would think that there would be kind of a challenging hill to climb…scraping away the dust and rust, but the guys can play, and have continued to play all along," the singer/guitarist explained. "It was an unanticipated delight."
Gibbons revealed that the inspiration for the band to reunite was the release of The Complete Collection , which was put together with much input from Grammy-winning compilation producer James Austin .
"It's really the pivotal point that started the brush fire," noted Gibbons. "And slowly all the original members did a little brainstorming, and once we agreed to get it back together, it was smooth sailing."
With one show under their belt, The Moving Sidewalks just have one more concert officially lined up -- an April 28 appearance at the Austin Psych Fest in Austin, Texas. However, Gibbons confirmed to ABC News Radio that between now and then, the group will hit the studio and try to record some brand-new material.
He pointed out that the band was inspired to work on new tunes by some "friends and fans and followers that said, 'Moving Sidewalks, this is great. I remember seeing you. I had the record, but we want more."
As for the possibility of The Moving Sidewalks scheduling additional shows down the road, Gibbons said that may depend on "the outcome of another recording session." He added that coming up with new music "really adds legitimacy to the whole outfit. And, in that way, you're committing to a form of repetition, that which kind of goes away for a live show."
Meanwhile, ZZ Top still has a very busy spring and summer ahead of it. The trio kicks off a new U.S. tour leg on May 2 in Newkirk, Oklahoma.
Copyright 2013 ABC News Radio