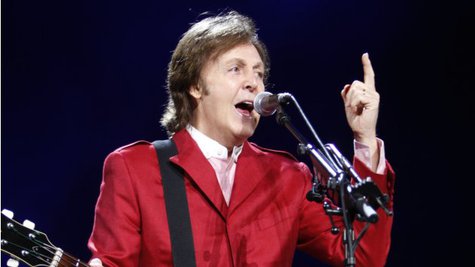 The Sunday Times newspaper has revealed its list of the U.K.'s richest musicians and to the surprise of probably no one, Paul McCartney remains the country's wealthiest rock star.
According to the paper's annual Rich List , Sir Paul has amassed a staggering $1.05 billion fortune. However, he didn't earn all that money himself: his wife, Nancy Shevell , is an heiress who reportedly has brought more than $230 million to their marriage. With or without that extra cash, though, the ex- Beatles star has topped the Rich List's "music millionaires" section every year since it was introduced in 1989.
Other musicians who landed in the top 10 this year include U2 , in at #3 with a fortune of about $800 million; Elton John , who at #4 is worth $370 million; and The Rolling Stones ' Mick Jagger and Keith Richards , who sit in fifth and eighth place, respectively. Also in the top 10 are ex- Police frontman Sting , and Olivia and Dhani Harrison , the widow and son of the late Beatle George Harrison .
Here's the top 10 musician-industry stars from The Sunday Times ' Rich List:
1. Paul McCartney and Nancy Shevell -- $1.05 billion
2. Andrew Lloyd Webber -- $955 million
3. U2 -- $801 million
4. Elton John -- $370 million
5. David and Victoria Beckham -- $308 million
5. Mick Jagger -- $308 million
7. Michael Flatley -- $294 million
8. Keith Richards -- $285 million
9. Olivia and Dhani Harrison -- $277 million
9. Sting -- $277 million
Copyright 2013 ABC News Radio