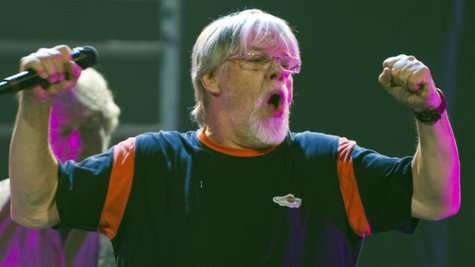 It was a night to remember for 79-year-old Bob Seger fan Evie Branan , who got to attend the rock legend's Rock and Roll Never Forgets Tour stop Thursday in Auburn Hills, Michigan. Branan, a recovering stroke victim whose first words after waking from a five-year coma were "I want to go to a Bob Seger concert," had her wish fulfilled and then some.
Thanks to arrangements made by Michelle Cross , an administrator at the long-term-care facility where Branan resides, and Seger's management company, Evie was welcomed as a special guest at a VIP party backstage at the show, where she got to meet Bob, as well as members of his family and band.
Prior to the concert, Branan told MLive.com that she looked forward to hugging Seger and "giving him a big smooch," and that's just what happened. Upon meeting Evie, Seger gave her a big hug, while Branan tells MLive.com that she "gave him a smooch on each side [of his face]."
After her close encounter with Seger, Evie gushed, "I never thought I would ever see this day. Oh man, it was a lot better than I thought it would be…I'm so happy I met Bob after all these years."
Branan also was introduced to Seger's wife, Nita , and son, Cole . "It's amazing," Nita said to Evie. "It's a thrill for us as much as it is for you, I'm sure."
As previously reported, Branan suffered a massive stroke several years back that landed her in a vegetative state for more than five years. Then, in May 2011, she woke up after falling out of bed and hitting her head. It was then that she declared that she wanted to go to a Seger show.
Thursday night's performance was the fifth Seger concert Evie has attended, and we daresay the best one yet.
Copyright 2013 ABC News Radio