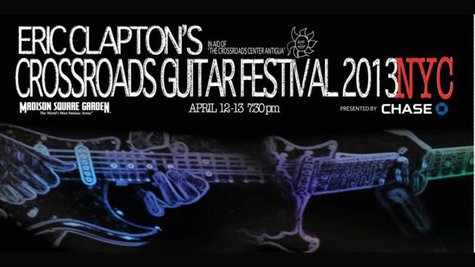 The 2013 edition of Eric Clapton 's Crossroads Guitar Festival gets under way tonight at New York City's famed Madison Square Garden. The first night of the star-packed two-night event will be headlined by The Allman Brothers Band , with Eric expected to hit the stage to jam with the lauded Southern rock group.
Although The Allmans have long shared a connection with Clapton, this will mark the first time that they will take part in the Crossroads festival. They had been on the lineup for the previous one, held in Chicago in 2010, but were forced to cancel because frontman Gregg Allman underwent his liver transplant just three days before the event.
Allman Brothers guitarist Warren Haynes , who did perform at the 2010 fest alongside band mate Derek Trucks and Trucks' wife, Susan Tedeschi , tells ABC News Radio that the group has "been looking forward to it ever since then."
Haynes describes the event as "a beautiful experience," adding, "There's a lot of collaboration, a lot of people sitting in with each other and a lot of stuff that you'll see that you'll only see there, which is something I love."
Meanwhile, founding Allman Brothers Band drummer Butch Trucks tells ABC News Radio that he's very excited to be getting the chance to jam with Clapton, who last played with the group in 2009 during its 40th anniversary shows at New York's Beacon Theatre.
Butch points out that Eric's connection to the Allmans dates back to Derek and the Dominos ' 1970 Layla sessions at Criteria Studios in Miami. All the band members participated in the recordings, with the late Duane Allman 's slide-guitar contributions becoming an integral part of the classic album Layla and Other Assorted Love Songs . Clapton eventually invited Duane to join The Dominos, but he declined.
Trucks also cites Clapton's work with Cream as a major early influence on The Allman Brothers. "Cream took the basic blues and added…a lot of improvisation," he points out. "And then, we took what they gave us and stirred in a little Miles Davis and John Coltrane and Herbie Hancock and people like that, and made the improvisation a little more complex."
Butch adds, "Without Cream, I don't know where we would have had our start…We all owe [Clapton] a lot. And he happens to be a great man."

In addition to The Allman Brothers Band, the Crossroads Guitar Festival bill also features B.B. King , Jeff Beck , Robbie Robertson , Los Lobos , Booker T. Jones , Steve Cropper , Buddy Guy , Robert Cray , Jimmy Vaughan , John Mayer , Taj Mahal and country stars Keith Urban and Vince Gill , among many others. Profits from the two-day extravaganza will benefit The Crossroads Centre in Antigua, a drug and alcohol treatment and education facility founded by Clapton.
After the fest, The Allman Brothers' members have a variety of other events lined up . The group's annual Wannee Festival is being held April 19-20 in Live Oak, Florida, while the second annual Peach Music Festival is scheduled for August 16-17 in Scranton, Pennsylvania. In addition, Butch and Allmans Brothers bassist Oteil Burbridge will participate in at a special music camp called the Roots Rock Revival that will take place June 3-7 in Big Indian, New York. The event will feature lectures, classes, jam sessions and concerts.
Copyright 2013 ABC News Radio