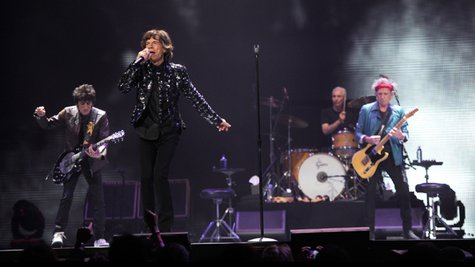 As the kickoff date for The Rolling Stones ' new North American tour approaches, the band is continuing to expand its itinerary. The British rock legends have added second dates in four cities where they already have concerts scheduled. The newly-announced shows take place June 14 at TD Garden in Boston and June 21 at the Wells Fargo Center in Philadelphia, as well as May 18 and 20 in Anaheim and Los Angeles, California, respectively.
Tickets for the concerts go on sale to the general public today at 10 a.m. ET. They can be purchased online at RollingStones.com/Tickets and Ticketmaster.com. The group's other shows in Boston and Philly and scheduled for June 12 and 18, respectively.
Meanwhile, The Stones' Mick Jagger and Keith Richards recently chatted with USA Today about the band's impending tour. The 69-year-old Jagger tells the newspaper that he's working out hard to get in shape for the trek.
"It's really boring," he admits. "Honestly, for athletics, it must be hell. They're doing 10 times what I'm doing."
He says he's "quite serious" about his conditioning, noting, "You have to be physically fit, mentally alert, vocally strong. It's dull and repetitious. The only thing I enjoy is the dance rehearsal."
So far, The Stones haven't scheduled that many concerts, but Richards says fans shouldn't be surprised if the band's itinerary keeps growing.
"Once this thing starts rolling, it's impossible to stop," he declares. "They're adding gigs as I speak. It all depends on how the boys feel about it."
Richards also says he hopes The Stones will eventually record a new full-length album, while maintaining that touring will help the group prepare for one.
"The time to record a band is once they've been on the road a while so they're hot," Keith insists. "We'll think about that while we're doing this. The world needs more Stones records. So do I."
The Rolling Stones' new 50 and Counting tour leg gets under way May 2 at the Staples Center in Los Angeles.
Copyright 2013 ABC News Radio