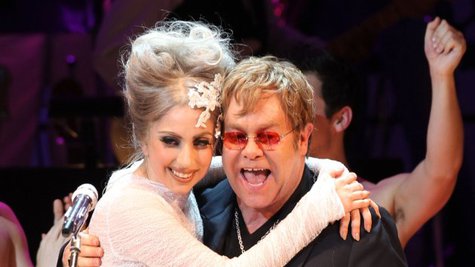 Elton John made headlines when he selected Lady Gaga as godmother to his and partner David Furnish's first child, Zachary. Now, Elton confirms that Gaga will also fill that role for the couple's new baby, Elijah .
Speaking to the TV show Extra , Elton says, "She's a great role model. She's been a great godmother to Zachary. She came to bathe him in Las Vegas. She was already dressed to go to the show, and she was sitting there and she bathed him, and she was like dressed like Audrey Hepburn …and she fed him."
He added, referring to Gaga's legendary eccentricity, "We're all bonkers in this business, but we're human beings at the same time."
According to Elton, Zachary, who's two, "loves his younger brother." But while Zachary's "all boy," says Elton, Elijah is "very Zen."
Elton also discussed being a father in general, saying he surprised himself with his tolerance for typical children's behavior. "Everything I thought I would find annoying about having children, like screaming and shouting, and tantrums…I don't find any of it annoying, I find it all enchanting," he reveals.
So, will Elton and David be having any other children? He told Extra , "If we wanted three we would love to have a girl, [but] two is enough."
Copyright 2013 ABC News Radio