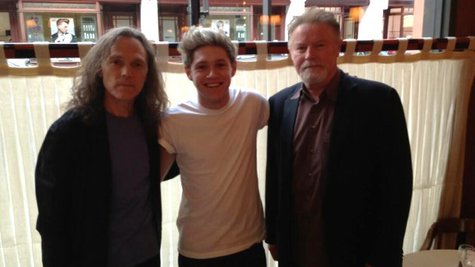 If you think the members of the U.K. boy-band sensation One Direction are shallow pop stars who have no interest in the music of the past, think again: At least one of the five guys in the group was practically jumping for joy because he got to meet the Eagles .
The Eagles were recently in London to promote their documentary History of the Eagles, which is where One Direction member Niall Horan ran into them. The starstruck 19-year-old tweeted , "I met my all time music heroes today 'the eagles' ! Well two of them! Don Henley and Timothy [ B. Schmit ]!" He then added the hashtag "#goosebumps," and included a photo of himself grinning ear-to-ear, standing between Don and Timothy.
Later, Niall checked out the Eagles' documentary, and tweeted , "Sittin at home watching the new eagles movie! Holy crap the eagles are soo good! like, its not even right how good they are!"
By the way, the Eagles aren't the only veteran group Niall appreciates. Last year, he was spotted at a Who concert in New York City and has said that he also enjoys Bon Jovi .
Copyright 2013 ABC News Radio