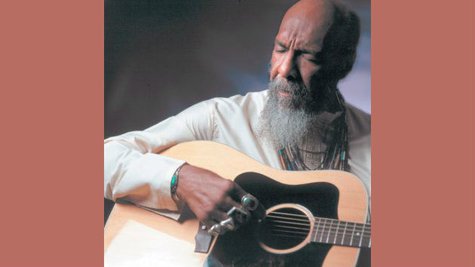 The family of the late Richie Havens has revealed plans for a number of memorial events to honor the famed folk musician, who died Monday, April 22, at the age of 72 after suffering a heart attack. Havens was cremated this past Tuesday and, as per his request, his ashes were placed in a stone, pyramid-shaped urn. This summer, the ashes will be scattered around the grounds of the Bethel Woods Center for the Arts in Bethel, New York, which was the site of the 1969 Woodstock festival.
First up, though, a free public viewing will be held on Monday at the City Winery in New York City starting at 8 p.m. ET. The Havens family is asking fans planning to attend the event to RSVP by emailing reservations@citywinery.com. A tribute concert for Richie also is being planned, with details of the show expected to be announced in the coming days.
Havens is perhaps best-known as the performer who opened the Woodstock festival, and was seen in the documentary about the legendary concert playing the song "Freedom," an improvisation based on the spiritual "Motherless Child." The musician had only one top 20 hit during his distinguished career: a 1971 cover of The Beatles ' "Here Comes the Sun."
Copyright 2013 ABC News Radio