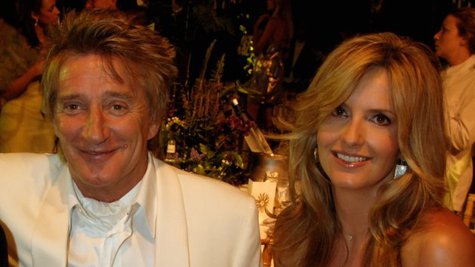 When Rod Stewart 's autobiography came out last year, much of it was devoted to dishing the dirt on his non-stop womanizing and detailing how he managed to juggle all his various girlfriends, wives and mistresses through the years. But these days, Rod says he's a one-woman man, and he couldn't be happier.
In an interview with the British paper The Sun to promote his upcoming album Time, Rod says that a few songs on the record, including the single "She Makes Me Happy," are inspired by Penny Lancaster , the mother of his two youngest children, who he married in 2007.
"I feel the same about Penny today as I did when I met her 13 years ago," he gushes to The Sun . "She's so sexy and she's my best friend." Not only that, but Rod says one of her real talents is managing to cheer him up when he's depressed.
"I do get down...But [it] doesn't last long as Penny digs me out of it," he explains. "Like last night, I had a bit of a sulk because I didn't really want to go out so she stood in front of me and started dancing. That's how she cheers me up. I said to her, 'You could've been the most expensive lap dancer in the world.'"
While some women wouldn't actually find that to be a compliment, it seems to work for the loved-up couple. "She's everything to me," Rod raves. "She's a great wife, a great mom and a great lover. And I'm with her for life."
Rod's new album Time comes out May 7.
Copyright 2013 ABC News Radio