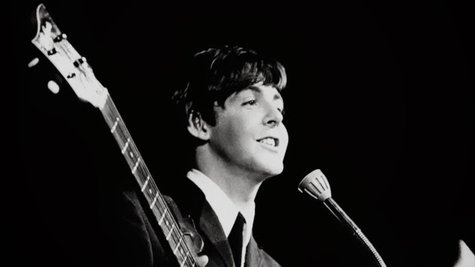 A U.K. man says he owns a very interesting piece of Beatles memorabilia that could be worth big bucks if he can verify its authenticity. Bridlington, England, resident Mike Hoggard claims he possesses a pair of leather pants that Paul McCartney used to wear onstage more than 50 years ago.
According to BBC News , Hoggard alleges that late Beatles manager Brian Epstein gave him the trousers when he was in a jazz group for which the Fab Four used to open at Liverpool's famous Cavern Club back in the early '60s. The name "Paul" is written on the inside of the pants, which apparently are the right size to have fit the rock legend at the time.
Hoggard tells the BBC that he'd lost track of the trousers for quite some time, but rediscovered them recently while preparing to move to a new residence. He recalls that one night in 1960 or '61 when his group, the Yorkshire Jazz Band , was playing at the Cavern Club, Epstein told him to take the pants, which "were in a bag hanging up [in the dressing room]." He adds that the manager "wanted to get [The Beatles] out of the leather and into these suits."
Hoggard explains that he gave no thought to the potential value of the pants at the time, since The Beatles weren't very well-known then.
Meanwhile, Mike's son-in-law, Paul Bennett-Todd , has done some research and says he believes that the trousers did indeed once belong to McCartney. He tells the BBC that he's studied 1961 photos of Sir Paul performing at the Cavern Club that he thinks show the Beatles star wearing the pants in Hoggard's possession.
"We can see creases that are indicative of the way that a person might wear those trousers," Bennett-Todd maintains. "It's like a fingerprint, almost."
If Hoggard can prove the trousers did belong to McCartney, he could stand to make a lot of money by auctioning them off. A leather jacket dating back to the same period that the late George Harrison once owned sold for about $170,000 at an auction this past December.
The BBC reached out to McCartney representatives regarding the pants but hadn't received a response as of press time.
Copyright 2013 ABC News Radio