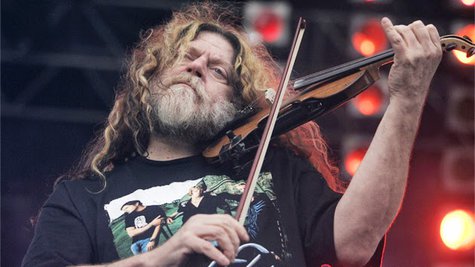 Original Kansas violinist/singer Robby Steinhardt was hospitalized on Friday after suffering a heart attack. According to a message posted Saturday on the band's Facebook page, Steinhardt is "resting comfortably" while preparing to undergo quadruple bypass surgery.
"The thoughts and prayers of the Kansas band and crew are with Robby and his family," the veteran rockers add. The group also reports that, because of his health emergency, Steinhardt will be unable to attend Kansas' 40th Anniversary Fan Appreciation Concert that's scheduled to take place this Saturday at the Benedum Center in Pittsburgh. All of the band's other original members will be on hand for the show, which also will feature a 35-piece orchestra during the event's first set.
Meanwhile, Robby's girlfriend Cindy has been posting additional updates on the 63-year-old musician's own Facebook page . She reports that Steinhardt initially had been scheduled to have the operation at 2 p.m. on Monday, but that it's now been postponed until 7:30 a.m. on Tuesday because his doctors are dealing with a higher-priority emergency case.
According to Cindy, the procedure is expected to take five hours. She also says Robby has started "a diet of fat free, sugar free, sodium free foods, [which] is not going over well [with him]."
Steinhardt was part of the classic Kansas lineup responsible for most of the band's hits. He had two lengthy stints the group -- from 1973 until 1982 and from 1997 to 2006.
Copyright 2013 ABC News Radio