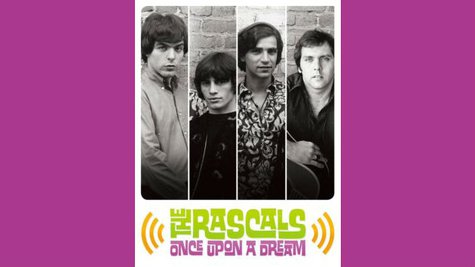 The Rascals ' reunion show Once upon a Dream begins an 11-performance stint tonight at the Royal Alexandra Theatre in Toronto. The multimedia event features the group's four original members playing dozens of their classic songs, along with archival film footage, photographs, narration and dramatic interludes that tell the band's story.
The show was written by E Street Band guitarist Steven Van Zandt , a rabid Rascals fan who also serves as co-producer and co-director of the production. Little Steven tells the Canadian Press that he had his work cut out for him trying to convince the band's members -- who'd long had a contentious relationship -- to come together for the project.
"Too much time had gone by, they're very idealistic individuals, they're very artistically sensitive, they're very sort of protective of their legacy, with good reason," explains Van Zandt.
The Rascals rarely played together between their breakup in the early 1970s until the first Once upon a Dream performances took place last December. Van Zandt explains that his involvement during the 1980s in South Africa's anti-apartheid movement helped when it came to convincing the 1960s legends to put aside their differences and take part in the production.
"Somewhere along the line, I don't know why or how, I found there's a part of my brain that's really good at conflict resolution," he declares, adding, "I used what I learned in those political years with the Rascals."
After the Toronto run, The Rascals: Once upon a Dream will visit a few more U.S. cities, ending with an October 10-11 stand at San Francisco's Warfield Theatre.
Here are all of the upcoming performances of The Rascals: Once upon a Dream , according to RascalsDream.com :
8/13-18, 20-21, 23-25 -- Toronto, Canada, Royal Alexandra Theatre
8/30 -- Uncasville, CT, Mohegan Sun Arena
10/10 -- Los Ange­les, CA, The Greek Theatre
10/11-12 -- San Francisco, CA, The Warfield Theatre
Copyright 2013 ABC News Radio