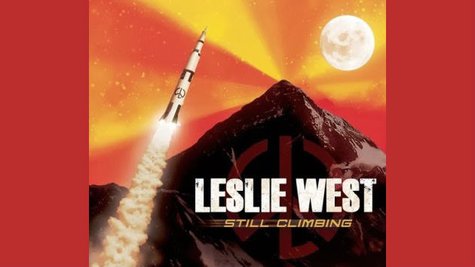 Mountain frontman Leslie West isn't letting his recent health issues slow him down. The 67-year-old guitar great, who lost part of his right leg to diabetes in 2011, is gearing up to release a new solo album titled Still Climbing on October 29.
The 11-song collection is a sequel to West's star-studded 2011 album, Unusual Suspects , which included guest appearances by Slash , ZZ Top 's Billy Gibbons , Toto 's Steve Lukather and longtime Ozzy Osbourne guitarist Zakk Wylde , among others. For Still Climbing , the veteran rocker teamed up on select tunes with Johnny Winter , Twisted Sister 's Dee Snider , Jonny Lang and Creed / Alter Bridge guitarist Mark Tremonti .
"What's different on Still Climbing is that I wanted my guitars to sound as big as I look," quips West. To achieve this, Leslie says he used four of his Dean Signature guitars, played them through his Blackstar amps "and turned them up loud and raw."
He adds, "I played one of the early tracks we recorded for Slash, and he said, 'That is as heavy as it gets.'"
Among the songs that appear on the album is a cover of late British actor-singer Anthony Newley 's "Feeling Good," which West recorded with Snider. Still Climbing also boasts a rendition of the Percy Sledge soul classic "When a Man Loves a Woman" that features guitar work by Lang. In addition, West offers up a new version of his 1969 solo tune "Long Red" that was recorded with his brother Larry , who was the bassist in his pre-Mountain group The Vagrants . Winter, meanwhile, squares off with West in a slide-guitar duel on the original tune "Busted, Disgusted or Dead."
Here is the complete track list of Still Climbing :
"Dyin' Since the Day I Was Born" (with Mark Tremonti)
"Busted, Disgusted or Dead" (with Johnny Winter)
"Fade into You"
"Not over You at All"
"Tales of Woe"
"Feeling Good" (with Dee Snider)
"Hatfield or McCoy"
"When a Man Loves a Woman (with Jonny Lang)
"Long Red"
"Don't Ever Let Me Go" (with Dylan Rose)
"Rev Jones Time (Somewhere over the Rainbow)"
Copyright 2013 ABC News Radio