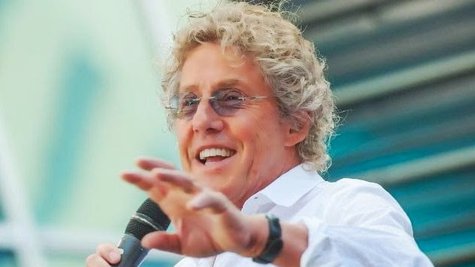 The Who will be the subject of a new multimedia display that will debut in the fall at the Fremont Street Experience mall in downtown Las Vegas. The Who -- Miles over Vegas is the latest in a series of light-and-sound shows projected on the facility's Viva Vision screen, which spans the length of five football fields.
The show will feature three classic Who tunes -- "My Generation," "I Can See for Miles" and "Pinball Wizard" -- accompanied by 3D graphics and images of the band. Who singer Roger Daltrey was at the Fremont Street Experience earlier this week to take part in a press event announcing the attraction.
"It's quite exciting. I'm intrigued at what it's going to look like," says the singer. "It's a seven-minute, 3D video animation of our early period…done in the [Pop Art] style of the time…So, that's going to be very interesting to see."
Viva Vision features the world's largest video screen, with an LED display that's 90 feet high and 1,500 feet long. Other artists whose music has been showcased at the attraction include Queen , The Doors , Heart and Bon Jovi .
In conjunction with the Who Viva Vision show announcement, Daltrey was presented with a five-thousand-dollar check from Fremont Street Experience president Jeff Victor for the Teen Cancer America charity founded by Roger and his band mate Pete Townshend . The organization supports the development of teen-friendly treatment facilities at medical centers in the U.S.
Daltrey says he was motivated to get involved in the charity because he wants to give something back to those who have helped support him over the years. "The whole [music] business was built on the back of teenagers' money, buying our records," he points out. "Every band that's out there depends on teenagers and, sadly, they're incredibly overlooked within [the U.S.] medical system."
He adds that although America provides excellent care with regard to medicine, "in the provision of environment that is teenage friendly, there's…virtually nothing. And we're out to change that."
Copyright 2013 ABC News Radio