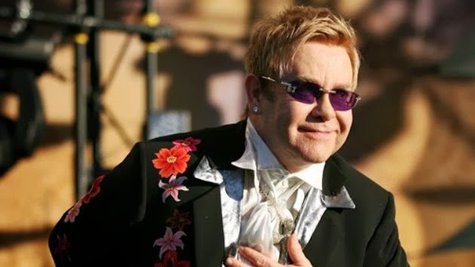 It's been quite a while since Elton John released a new music video, but fans will get one from the Rocket Man next week: a clip for "Home Again," the first single from Elton's upcoming album The Diving Board.
A still from the video can currently be seen on Elton's official Facebook page and website . It shows an older man with longish grey hair, his back to the camera walking through a grassy valley holding a suitcase. The valley is covered with what look like burning sparklers or candles.
Meanwhile, another Elton video is getting some attention online. It was first posted to YouTube back in October, but is now making the rounds thanks to being highlighted on the website Reddit earlier this week. It's a montage of Elton performing one of his most enduring hits, "Your Song," through the decades, from 1970 through the late 1990s.
Elton has performed the tune at nearly every one of his concerts for the past 43 years, and that means he's sung it more than two thousand times. This video gives us a glimpse at just a fraction of those performances, and while you can see Elton's hair, weight and outfits change -- as well as his voice, which has gotten deeper -- he still sounds great...even when he's dressed as Donald Duck.
Copyright 2013 ABC News Radio