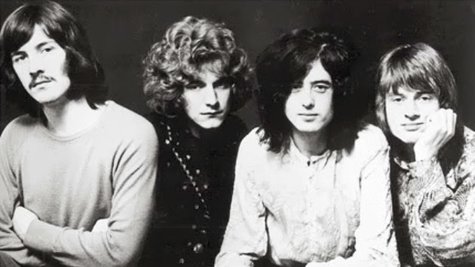 Led Zeppelin will receive a special honor next month in Gladsaxe, Denmark, at the site of the legendary band's very first concert. A commemorative plaque is scheduled to be unveiled at the Egegaard School on September 7, which marks the 45th anniversary of the rockers' show at a now-defunct venue called the Gladsaxe Teen Club that was located there.
Led Zeppelin was known as The New Yardbirds when they gave their historic performance. In fact, The Yardbirds , guitarist Jimmy Page 's previous group, originally had been booked to play the show but had broken up by the time the gig took place. The band -- Page, Robert Plant , John Paul Jones and John Bonham -- reportedly played a set that mixed some classic Yardbirds tunes with such then-new songs as "Communication Breakdown," "Babe I'm Gonna Leave You" and "How Many More Times."
A successful initiative to raise funds to pay for the plaque was launched recently by a committee that includes Jorgen Angel , who took some famous photographs at the gig; and Jerry Ritz , who was the band's tour manager at the time. More information about the memorial campaign and the history behind the concert is available at LedZeppelin1968.com .
Copyright 2013 ABC News Radio