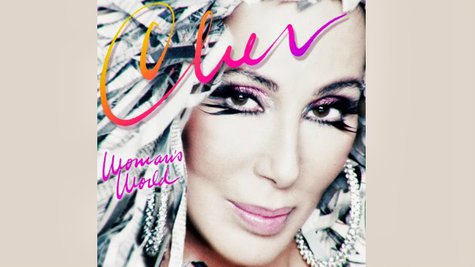 Cher 's friendship with Lady Gaga seems to be rubbing off in the hair department: The legendary diva sports an impressive array of crazy wigs in the new video for her single, "Women's World."
In the video, which premiered on the website of the British newspaper The Daily Mail , Cher starts things off wearing an enormous wig made of shredded newspaper clippings. As she sings, the screen splits, so her head is singing on top of different women's torsos and legs. There are also shots of other women of all shapes, races, ages and sizes, dancing alone and with Cher, as she sings. Next, the icon sports a long silver wig with bangs, and then a long orange frizzed-out wig with bangs, then a platinum-and-black-striped wig.
Cher will be bringing her fans more over-the-top looks in her upcoming tour -- she recently tweeted that her longtime costume designer, Bob Mackie , will be creating her looks for the trek. "Makes Me SO Unbelievably Happy!," she tweeted, "Wouldn't Be , ME …WITHOUT HIM." She added that the tour may start in March.
So far, Lady Gaga hasn't commented on the new video, though Cher went out of her way to tweet Gaga with her approval of the younger artist's new clip for "Applause." "Just saw it ! Wow! Many Powerful Images! It'll Take Me More X's 2 GET IT ALL!," she wrote to Gaga. "Loved DANCE & Outfit Looks Quite Beautiful."
Copyright 2013 ABC News Radio