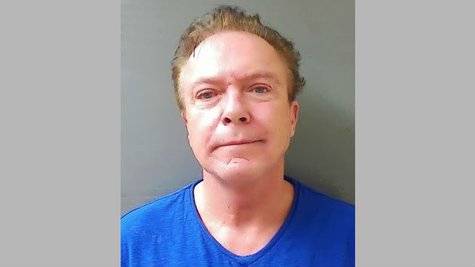 David Cassidy was arrested early Wednesday morning in the town of Schodack, New York, on a felony DWI charge as well as for failing to dim his headlights. According to a statement from the Schodack police department, Cassidy was pulled over during a "Stop-DWI enforcement detail" that officers in the town were conducting.
The 63-year-old singer was arraigned at Schodack Justice Court and was then sent to nearby Rensselaer County Jail, where, according to the facility's spokeswoman, he was released after posting a $2,500 bond. Cassidy is due back at Schodack's court on September 4.
This isn't the first time Cassidy has been charged with driving while impaired. In November 2010, the one-time pop idol was arrested in Fort Pierce, Florida, after police noticed his car weaving on the road. He reportedly failed a number of sobriety tests before being taken in.
Coincidentally, Cassidy will be featured on an episode of the Oprah: Where Are They Now? series that's scheduled to air on the OWN network this Sunday at 10 p.m. ET/9 p.m. CT.
Copyright 2013 ABC News Radio