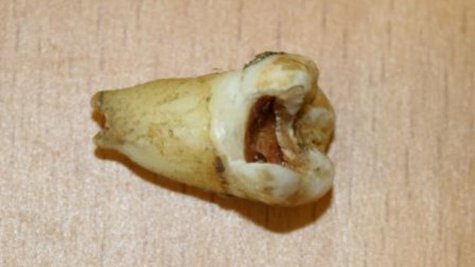 Imagine John Lennon 's clone walking the planet. That's just what the Canadian dentist who in 2011 paid more than $30,000 at a U.K. auction for a rotted tooth that once belonged to the late Beatle is hoping will one day become a reality.
Dr. Michael Zuk announced via a press release that he's turned over the molar to U.S. scientists so they can determine whether Lennon's genetic code can be extracted from it.
"I am nervous and excited at the possibility that we will be able to fully sequence John Lennon's DNA, very soon I hope," says Zuk in a statement. "With researchers working on ways to clone mammoths, the same technology certainly could make human cloning a reality."
The dentist added that "to potentially say I had a small part in bringing back one of rock's greatest stars would be mind-blowing."
Zuk previously made news by allowing Lennon's tooth to tour U.K. dental offices to promote mouth-cancer awareness, and by having a number of silver "John Lennon DNA" pendants created that incorporated fragments of the molar.
Zuk, who refers to himself as a "tooth collector," also paid about ten-thousand dollars last year for a dental crown made for Elvis Presley . For more information about the dentist's plans for Lennon's molar, visit JohnLennonTooth.com .
Copyright 2013 ABC News Radio