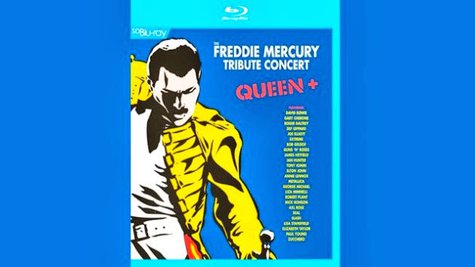 Deluxe DVD and Blu-ray packages documenting the star-packed tribute concert that the surviving members of Queen hosted for their late band mate Freddie Mercury at London's Wembley Stadium on April 20, 1992, will arrive in stores on September 3. Now, you can enjoy a brief preview video of The Freddie Mercury Tribute Concert: The Definitive Edition online.
The clip features just a small sampling of the many stars who took the stage that night, just five months after Mercury died, to celebrate Mercury's life. Those stars include Robert Plant , Axl Rose , Elton John and Metallica 's James Hetfield . As previously reported, the video collection will boast footage of the entire concert, opening-act performances and a bevy of bonus material, and will be available as a three-DVD set and a standard-definition Blu-ray. The entire film has been enhanced with a remastered soundtrack.
Among the many other artists who performed at the show with Queen's Brian May , Roger Taylor and John Deacon were Roger Daltrey , David Bowie , Ian Hunter , Tony Iommi , Joe Elliott , Bob Geldof and Annie Lennox , while Metallica, Guns N' Roses , Def Leppard and Extreme served as opening acts. The video's extras include rehearsal footage of some of the performers, a documentary that marked the 10th anniversary of the concert, photo galleries from the event and more.
The deluxe Freddie Mercury Tribute Concert DVD is priced at $29.99, while the Blu-ray lists at $24.98.
Copyright 2013 ABC News Radio