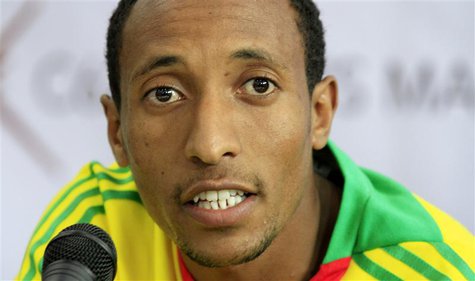 By Kumerra Gemechu
ADDIS ABABA (Reuters) - World 800 meters champion Mohammed Aman will try the 1,500 next year after becoming the first Ethiopian to win a world title in a distance under 5,000 meters in Moscow this month.
In the absence of Kenya's injured Olympic champion David Rudisha, Aman won a tight race ahead of American Nick Symmonds in one minute 43.31 seconds.
"I don't think his (Rudisha's) absence has altered the outcome because I was saying to myself that I must bring something from this competition for myself and my country," Aman told reporters on Thursday.
"I prepared for this competition very well with a lot of focus. I had confidence in myself because I had been winning the past consecutive Diamond League competitions."
Aman, 19, said he would step up a distance next year.
"I spoke to my coach and he told me we try 1,500. So, next year we do 1,500," Aman said. "The Kenyans are very strong in 1,500 but I (want to) show how Ethiopia can also run 1,500."
(Writing by Drazen Jorgic; Editing by John Mehaffey)