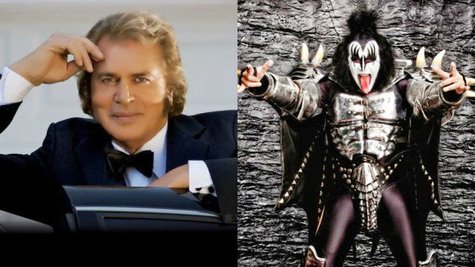 Engelbert Humperdinck 's upcoming duets album is really going to rock, now that the 77-year-old pop crooner has tapped Gene Simmons of KISS for the project. The two artists teamed up in Los Angeles this week to record a track for the record. A video of Humperdinck and Simmons posing for photos and joking around was posted on Engelbert's official Facebook page on Wednesday.

In a message attached to the clip, Humperdinck writes, "What an absolute pleasure to meet and record with this giant of a Rock God! A fantastic day with Gene Simmons and his gorgeous wife Shannon ." In the video, after Simmons quips about the length of his famous tongue, Engelbert sticks his own tongue out while the photographers snap away.
Simmons is the latest in a growing list of stars who've collaborated with Humperdinck for the duets album, which also will feature Elton John , Smokey Robinson , Willie Nelson , Kenny Rogers , Neil Sedaka and Lulu .
In a recent interview with Australia's Noise11 website, Engelbert said, "I'm so thrilled that everyone has responded and wanted to work on the album with me and I think it has been a very exciting project."
No word yet on when the album will be released.
Copyright 2013 ABC News Radio