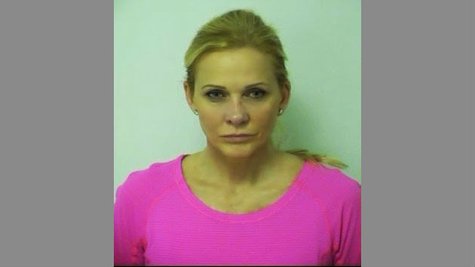 New details have emerged about the arrest of Ted Nugent 's wife, Shemane , on gun possession charges Thursday morning at Dallas-Ft. Worth International Airport. According to an official police report, the 51-year-old Shemane told authorities that she accidentally brought the gun, which was loaded, to the airport.
The report notes that Nugent stated that she had forgotten that she'd put the gun in her carry-on bag when she attempted to go through a security checkpoint outside of the terminal. Security personnel spotted the firearm -- a Smith & Wesson .38 Special revolver -- when it went through an x-ray monitor, and alerted airport police. An officer then inspected Shemane's bag and discovered that the gun was loaded with five rounds, while 10 more rounds were located in a pocket of the luggage.
Shemane informed the officer that she was licensed in Texas to carry a concealed weapon. She also said that she carries the weapon because she's been receiving death threats, although she didn't elaborate.
She was subsequently arrested and handcuffed, and brought to a local police station for processing. Her gun, the ammo and a black case were seized for use as evidence.
As reported on Thursday, Shemane eventually was released from custody sometime that afternoon.
Copyright 2013 ABC News Radio