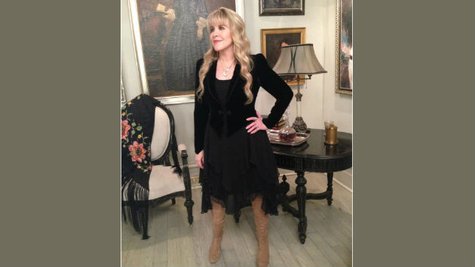 Stevie Nicks fans know that the singer will soon be making an appearance on American Horror Story: Coven , but now word has emerged that the Fleetwood Mac f rontwoman actually will be showing up on not one but two episodes of the hit FX series.
The show's creator, Ryan Murphy , disclosed the news in a recent interview with Entertainment Weekly .
"Stevie will be in episode 10 and then we have Stevie for another one, doing an idea that she came up with that I thought was too perfect to say no to," reveals Murphy.
He explains that the idea to include Stevie in another episode emerged after she'd been poring through some of the show's upcoming scripts and came across a scenario that seemed very familiar to her.
"[She] called up and said, 'Are you aware that one of the things you're doing I actually wrote a song about?'" notes Ryan. "I'm like, 'You've got to be kidding.' Then I remembered the song. We have something cool that was her idea."
Stevie's first appearance on American Horror Story: Coven will air on January 8. As previously reported, a source who works on the show told E! Online that Stevie will play herself in the episode and will show up to meet her "biggest fan," the eccentric witch character Misty Day.
Copyright 2013 ABC News Radio