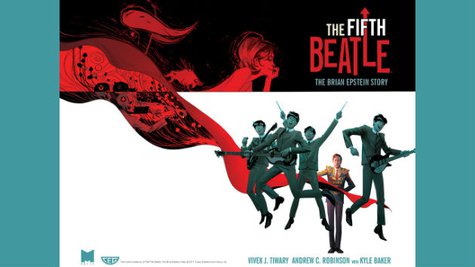 The Fifth Beatle , an upcoming film project about late Beatles manager Brian Epstein that's based on a popular graphic novel of the same name, has a director. Peyton Reed , whose credits include Bring It On , The Break-Up and Yes Man , has signed on to helm the flick .
The movie is being co-produced by Oscar-winning producer Bruce Cohen and Tony-winning producer Vivek J. Tiwary , the latter of whom is the author of The Fifth Beatle graphic novel, as well as of the film's screenplay. The project, which will begin shooting next year, is the first feature film about The Beatles ever to secure the rights to Paul McCartney and John Lennon 's Fab Four catalog.
The Fifth Beatle focuses on Epstein's life from his discovery of the band in Liverpool, England, in 1961 to his untimely death in 1967 at age 32 from an overdose of barbiturates. The story not only recounts the manager's triumphs as the group achieved international superstardom but also delves into his struggles as a closeted gay man.
"From the moment I read Vivek's graphic novel, I knew I wanted to be the person to bring Brian's story to the big screen," says Reed in a statement. "I'm a lifelong Beatles fan, obviously, but it's Brian's fascinating life that really blew me away and drew me to this project."
Meanwhile, Tiwary and Cohen, commenting jointly on the director, add, "Peyton's films are incredibly fun and entertaining, while still underscoring a serious empathy for the struggle for accomplishment, belonging and the need to love and be loved…In brief, Peyton is simply the perfect director to take the Brian Epstein story to the big screen."
For more information about the production, visit TheFifthBeatle.com.
Copyright 2013 ABC News Radio
THE FIFTH BEATLE Graphic Novel Trailer from TEG on Vimeo .