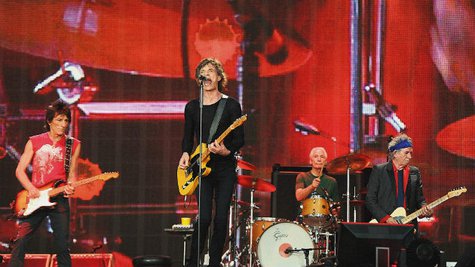 Showtime is set to host the world television premiere of the new Rolling Stones concert film, Sweet Summer Sun -- Return to Hyde Park , which features highlights from the two shows the band played at the London park this past July. The movie will debut on Friday, December 20 , at 9 p.m. ET/PT on the cable network, and will receive multiple encore screenings on Showtime and its affiliated channels SHO 2 and Showtime Showcase during the ensuing few weeks.
Sweet Summer Sun features The Stones performing such classics songs as "Start Me Up," "It's Only Rock 'n' Roll," "Honky Tonk Women," "Miss You," "Jumpin' Jack Flash," "Sympathy for the Devil," and "Brown Sugar." In addition, it includes a guest appearance by former Stones guitarist Mick Taylor , who joins the band for two songs -- "Midnight Rambler" and "(I Can't Get No) Satisfaction." The film, which was directed by Paul Dugdale , also contains previously unseen backstage and behind-the-scenes footage.
The Stones' 2013 Hyde Park concerts were staged almost exactly 44 years after the British rock legends played a historic free show at the park. That July 1969 performance marked Taylor's first concert with the group, and also came just two days after the death of founding Stones guitarist Brian Jones .
Sweet Summer Sun was screened in theaters across the U.S. early last month, and was released on DVD, Blu-ray and as a digital video on November 11.
Copyright 2013 ABC News Radio