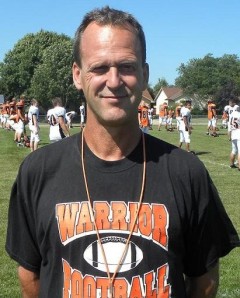 Sioux Falls, SD (KWSN)- The Sioux Falls Storm is proud to announce that Brian Hermanson has signed on as the Defensive Coordinator for the 2014 season.
Hermanson has a familiar name in the area. He has spent 33 years on the South Dakota sidelines. This run included time as the Defensive coordinator for the Roosevelt Rough Riders and also as head coach for the Washington Warriors. Hermanson's time with the Warriors resulted in six straight trips to the class 11AA title game, including three victories. Hermanson's Warriors also produced twenty-two Division I football players.
"Excitement, confidence, enthusiasm, knowledge are all terms you think of when you describe Coach Hermanson", states Head Coach, Kurtiss Riggs. "We are excited to have him back on the sidelines.
Courtesy: Sioux Falls Storm