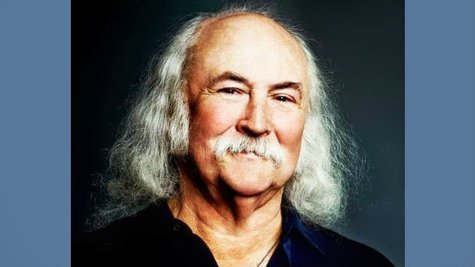 To warm up for his recently announced U.S. solo tour, David Crosby will play a special show on January 16 at the Lobero Theatre in his hometown of Santa Barbara, California. Pre-sale tickets for the gig can be purchased now at Lobero.com, while tickets will go on sale to the general public this Saturday at 10 a.m. PT.
The folk-rock legend's trek will officially get under way on January 28 at the City Winery in New York City, the first of four shows Crosby is scheduled to play at the venue. The 72-year-old Rock and Roll Hall of Famer's outing will wind down with a five-concert engagement at The Troubadour in Los Angeles that wraps up on February 28.
Crosby's tour will be in support of a brand-new solo album titled CROZ that's scheduled to hit stores on January 27. In addition to songs from the 11-track collection, fans can expect David to perform material from his tenure with The Byrds , his compositions for Crosby & Nash ; Crosby, Stills & Nash ; and Crosby, Stills, Nash & Young , and his previous solo releases.
CROZ features guest appearances by a number well-known artists, including ex- Dire Straits frontman Mark Knopfler , acclaimed jazz trumpet player Wynton Marsalis and veteran session bassist Leland Sklar .
Here are all of Crosby's confirmed upcoming solo tour dates:
1/16 -- Santa Barbara, CA, Lobero Theatre
1/28 -- New York, NY, City Winery
1/29 -- New York, NY, City Winery
1/31 -- New York, NY, City Winery
2/1 -- New York, NY, City Winery
2/3 -- Vienna, VA, The Barn at Wolf Trap
2/4 -- Vienna, VA, The Barn at Wolf Trap
2/6 -- Vienna, VA, The Barn at Wolf Trap
2/8 -- Chicago, IL, City Winery
2/9 -- Chicago, IL, City Winery
2/20 -- San Francisco, CA, Great American Music Hall
2/21 -- San Francisco, CA, Great American Music Hall
2/23 -- Los Angeles, CA, Troubadour
2/24 -- Los Angeles, CA, Troubadour
2/25 -- Los Angeles, CA, Troubadour
2/27 -- Los Angeles, CA, Troubadour
2/28 -- Los Angeles, CA, Troubadour
Copyright 2013 ABC News Radio