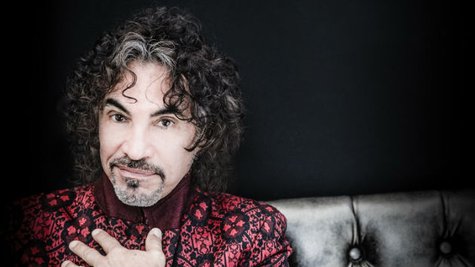 The inductees for the Class of 2014 at the Rock and Roll Hall of Fame were announced on Tuesday, and on Wednesday, newly minted inductee John Oates of Hall & Oates was still buzzing. "I'm a little overwhelmed at this point and I'm trying to absorb it all," he told ABC News Radio on Wednesday.
Both Oates and Daryl Hall credit their fans for creating a huge groundswell of support, online and elsewhere, that helped the duo finally make it into the Rock Hall, for which they've been eligible for many years. The fans also were key in actually voting for the duo to be inducted, says John, noting that the Hall only recently began allowing fans have a say in who gets in.
"When the Rock and Roll Hall of Fame decided to open up the voting beyond their inner circle, to the actual fans, that's when I think everything changed," Oates tells ABC News Radio. "And I feel really good about that because, after all, it's the fans who make and break your career. They're the ones who stick by you. They're the ones who buy your records [and] come to the shows...So really, in the end, that's the most important thing."
Oates says he and his longtime musical partner didn't actively campaign themselves for induction, preferring, as he says, to "stay a bit detached from it." He adds, "When you really can't affect something, you almost don't wanna wish too hard, because it's just frustrating."
Meanwhile, in addition to their fan support, John says another factor in the duo's induction is the fact that over the past few years, Hall & Oates' music has slowly but surely been reevaluated, to the point where it's even considered -- dare we say -- cool.
"I think Daryl's TV show, Live from Daryl's House , had a lot to do with it," says Oates, referring to Hall's series that features him jamming with a variety of well-known veteran artists as well as current acts. "It exposed how much the younger generation of musicians were influenced by our music." As a result, notes John, "The audience at our live shows has just gotten a lot younger...a whole new generation of fans has begun to rediscover and re-appreciate what we've done."
Hall and Oates both plan to attend the induction ceremony, which takes place in April in Brooklyn, New York, and John says that he's pleased with the rest of this year's inductees, which include KISS , Linda Ronstadt , Peter Gabriel , Cat Stevens and Nirvana . "They all brought something unique to the pantheon of pop music and rock music, so it's great. It's a very cool, cool group."
Surprisingly, Oates says he hasn't called Hall, who's currently in London, to revel in the good news together. "I very seldom talk to Daryl on the phone. He's not very good on the phone," reveals John. "He doesn't like to kinda have these long conversations. We catch up when we're together. So...we haven't actually celebrated -- but we will!"
Copyright 2013 ABC News Radio