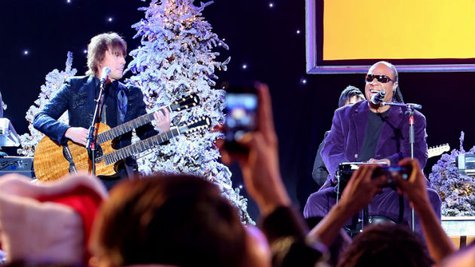 The 2013 edition of the annual Hollywood Christmas Parade special airs tonight on the Hallmark Movie Channel at 5 p.m. ET/PT and 4 p.m. CT. The star-studded show features a variety of festive performances from the event, held recently in Hollywood, California, including Stevie Wonder duetting with Bon Jovi guitarist Richie Sambora on the holiday classic "Silent Night."
Speaking to the media before the performance, Sambora had a hard time putting into words how excited he was to take the stage with the Motown legend, calling it "the largest honor ever."
The New Jersey rocker added, "He taught me how to sing. I listened to his records, and I still do…I'm speechless."
Kenny Loggins also is featured in the special, crooning a version of "Frosty the Snowman." The veteran singer/songwriter told the press that the reason he sang that tune was that he'd recorded the song for a newly released illustrated children's book based on the Frosty tale.
Loggins explained that the Frosty the Snowman book, which was illustrated by Wade Zahares , comes packaged with a CD that includes his recording of the tune. The publication was released on an imprint run by Peter, Paul and Mary singer Peter Yarrow , who, Kenny revealed, "called me and said, 'I love your work. I want you to sing "Frosty."'"
Also appearing on the Hollywood Christmas Parade special is Star Trek 's original Captain Kirk himself, William Shatner . The actor delivers a spoken-word performance of one of the songs from his new prog-rock concept album, Ponder the Mystery . Shatner is backed by a group called Circa , which features founding Yes keyboardist Tony Kaye and ex-Yes guitarist Billy Sherwood , who wrote all of the music to the recently released record.
"It's gotten rave reviews and something you all should listen to and take a look at," Shatner says of Ponder the Mystery , adding, "We're very proud of it and we hope to bring it to the masses."
Other music acts that appear on the special include The Goo Goo Dolls , Daughtry and LeAnn Rimes . The Hallmark Movie Channel will host an encore screening of the program on Tuesday, December 24, at 11 a.m. ET/PT and 10 a.m. CT.
Copyright 2013 ABC News Radio