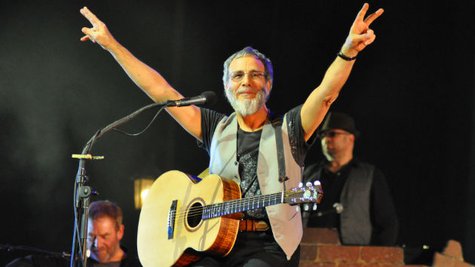 The artist once known as Cat Stevens , aka Yusuf Islam , is among the renowned artists who will be welcomed into the Rock and Roll Hall of Fame next year at an April 10 ceremony to be held in Brooklyn, New York. The 65-year-old singer/songwriter tells Rolling Stone that while he "wasn't very prepared" for the news, "since it's happened, it kind've tickled me quite a lot."
The folk-rock legend, who took the name Yusuf Islam when he became a Muslim during the late 1970s, says, "It's great to know there are people out there who appreciated my work."
Meanwhile, Yusuf points out that while he appreciates the recognition, honors like the Rock Hall induction are "just not the reason I got into music [and are] not the reason I write songs." He adds that, "for me, the whole activity of music is its own reward."
Yusuf says he plans to attend the ceremony, although he isn't sure he'll perform at the gala. Regarding the fact that he'll be taking the stage alongside the much-harder-rocking KISS , he notes, "They're a good looking group, I must admit. I'm not sure that I can compete."
He also reveals that another fellow inductee, Nirvana , happens to be his son's favorite group. "They're a great force of a new rejectionist approach to the business and to the industry," he says of the grunge greats. "They made their noise, and they made a great noise."
In addition, Yusuf notes that he's close friends with another 2014 honoree, Peter Gabriel , who helped coax him back to the stage in 2003 after he gave up performing for more than a decade because of religious reasons.
"He's a great guy, a great friend and a fantastic musician," Yusuf says of the ex- Genesis frontman, who played flute on the 1970 Cat Stevens album Mona Bone Jakon .
The singer also reveals that he's working on a new solo album that he's hoping to release before the end of 2014. He tells Billboard that his new material has "a kind of bluesy" sound.
Copyright 2013 ABC News Radio