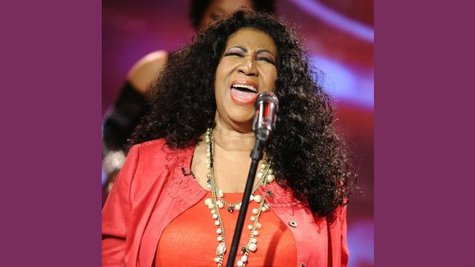 Aretha Franklin has revealed some details about her upcoming recording project on which she's collaborating with music mogul Clive Davis and producers Kenneth "Babyface" Edmonds and Don Was . The Queen of Soul tells Billboard that the record will be a "concept" album, featuring songs by other renowned female vocalists.
"It's just re-working some things that were very, very good and certainly chart-worthy and sold a lot of records," Franklin explains. "They're records that, musically, I respected and that I liked a lot and that I would love to have one go-'round with."
Franklin reports that she and Davis have settled on a list of 10 tunes that include Barbra Streisand 's "People" and Donna Summer 's "Last Dance." She also says she's considering recording Destiny's Child 's "Bootylicious."
Aretha tells Billboard that she's planning to start recording the new album on New Year's Day near her hometown of Detroit, and she's hoping the collection will be released sometime between early spring and early summer.
Franklin also says that Babyface and Was have been getting the instrumental tracks together, in preparation for her to add her vocals. "I'm pretty much leaving it up to their expertise in that area," she notes. "We all have a great deal of respect for each other. They're not anybody that I would question. They've got great track records and I believe they're going to bring it home, and I'll do the rest."
After having to cancel a number of performances earlier this year because of an undisclosed medical issue, Aretha is ready to return to the stage. On Saturday, she's slated to play her first new show since her recovery, in Detroit at the MotorCity Casino Hotel. She also has concerts scheduled for January 17 and 18 at Radio City Music Hall in New York City, and Revel Ovation Hall in Atlantic City, New Jersey. More dates are expected to be announced soon.
Copyright 2013 ABC News Radio