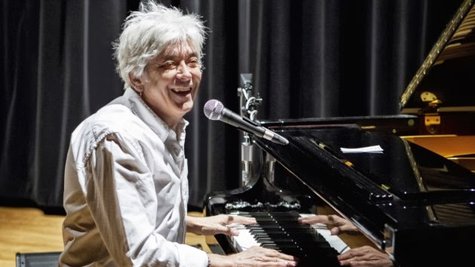 Rod Stewart announced in a recent interview that he was eyeing 2015 for a long-awaited reunion of the surviving Faces members; however, keyboardist Ian McLagan says he and drummer Kenney Jones might not be available then. Besides being founding members of the Faces, McLagan and Jones were part of the classic lineup of their predecessor group, the Small Faces , and Ian tells Billboard that he and Kenney already have plans to mount a 50th anniversary celebration for the latter band in 2015.
"What I want to do is play a few shows with Kenney and some special guests," he explains. "I mean, there's plenty of fans of the Small Faces that we know of, and I want to see if they'll come out and play."
McLagan also seems a bit miffed that Stewart hadn't bothered to check with him when he made his statement regarding the Faces.
"It's just that nobody's talked to me about it," Ian says. "I just read it in the paper…The suggestion I read in the paper is we get together in 2015. Not acceptable! Why wouldn't he call me to ask if I'm f**king busy? I've got gigs. I'm a working musician."
McLagan also points out that he and Jones didn't feel obligated to check with Stewart and Faces guitarist Ronnie Wood regarding their Small Faces plans "because we've only got one year to celebrate the 50th anniversary." He adds, "We can't do it in 2016, and we're not gonna do it in 2014."
In addition to McLagan and Jones, the Small Faces featured singer/guitarist Steve Marriott and bassist Ronnie Lane , who passed away in 1991 and 1997, respectively. When Marriott left the band in 1969 to form Humble Pie , Stewart and Wood joined the Small Faces, who were soon rechristened the Faces. The groups were jointly inducted into the Rock and Roll Hall of Fame in 2012.
Meanwhile, an expansive Small Faces compilation titled Here Come the Nice: The Immediate Years Box Set 1967-1969 is scheduled for release on January 28, 2014. The limited-edition four-CD collection features remastered audio and a bevy of rare and previously unreleased tracks. It will include a 72-page hardbound coffee-table book, a booklet of the band's lyrics, several replica vinyl discs, posters, postcards and prints, plus certificates personally signed by McLagan and Jones. The hardcover book features a foreword penned by The Who 's Pete Townshend and testimonials from such star as Robert Plant , David Bowie , Peter Frampton and The Red Hot Chili Peppers ' Chad Smith .
In addition, McLagan is planning to put out a new solo album titled United States with his longtime backing group The Bump Band sometime in 2014.
Copyright 2013 ABC News Radio