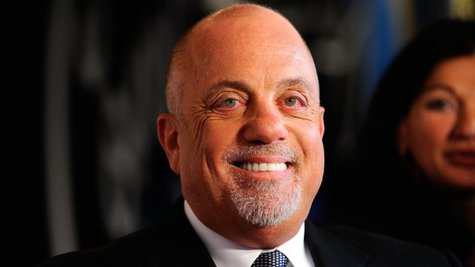 This August will mark 20 years since Billy Joel put out River of Dreams , the last pop album he's released to date. And despite being hassled by everyone from Elton John to Bruce Springsteen about making another record, the Piano Man says he has no plans to do so.
Speaking to Rolling Stone magazine, Billy says, "A lot of people don't understand -- why would you retire from rock stardom?...[But] I've given away a lot of my own life in these songs and now I feel like I want to have a little bit of my own life for me." In fact, the final song on River of Dreams is called "Famous Last Words," and Billy says, "By the time I got to River of Dreams and [that song], I felt like, 'OK, I've had my say.'"
However, that doesn't mean that he's completely stopped working on his craft. "I still write music. Just nobody's hearing it and I'm not recording it and it's not songs," he explains. "It's instrumental music. I haven't, y'know, discarded the idea of ever writing songs."
Billy puts it this way: "I like to say I broke up with me. The singer broke up with the songwriter and the performer didn't want to work with the piano player anymore."
By the way, Billy did write two actual songs with lyrics since the release of River of Dreams: both of them came out in 2007. One of them, "Christmas in Fallujah," was originally recorded by an artist named Cass Dillon , and the proceeds went to a charity that builds homes for disabled American service members. Billy released a live version of "Christmas in Fallujah" in 2008 that featured his own vocals. The other, "All My Life," was an anniversary present for his then-wife, Katie Lee . They split up in 2009.
Copyright 2013 ABC News Radio