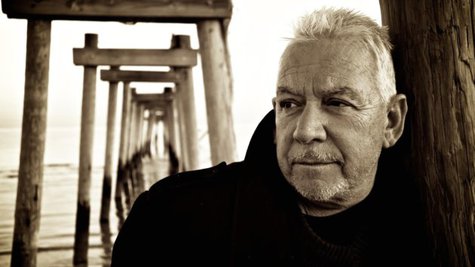 Eric Burdon is back with a brand-new album, 'Til Your River Runs Dry , which hit stores last week. The British-born rocker has always been enamored with American roots music, and that love is reflected in the genres he tackles on 12-song collection, including blues, R&B, gospel and New Orleans jazz. The album has been described as the founding Animals singer's most personal to date, and finds him musing on such topics as politics, war, religion, romance and the environment.
As the record's title suggests, the environment is a particularly concern for Burdon, specifically the subject of water -- both the lack and the overabundance of it. The album's first track and lead single is called "Water," and Burdon says it reflects his interest in the issue.
"We have to address water and what we do with it, and what we don't do with it," he explains to ABC News Radio. "Who regulates that industry? What's in it? Should it be in plastic? It's probably not a good thing to store water in plastic for long periods of time."
The singer notes that, as someone who's lived in the California desert for 20 years, it was "only natural" for him to get involved in the issue, adding, "out there you get to really appreciate water."
Another song on the album, "River Is Rising," deals with the theme of flooding, which Burdon has observed is a problem more people around the world have become aware of in recent years. Burdon used the story of Fats Domino 's delayed rescue from his home after Hurricane Katrina hit New Orleans as specific inspiration for this brooding gospel-soul tune.
"I heard through friends who lived down there this incredible story Fats being overlooked by the first responders," he explains. "They put an 'x' on his door and continued on their way, thinking that he was [dead]. But he wasn't. He was asleep."
Also on the album, Burdon pays homage to one of his musical influences, the late Bo Diddley -- not once, but twice. The album features "Bo Diddley Special," a tribute to the rock 'n' roll pioneer that he co-wrote, as well as a cover of Bo's "Before You Accuse Me."
"Any excuse to do the Bo Diddley 'Bolongo' beat, sign me up…I love it," Burdon tells ABC News Radio. "I thought that was one of the most innovative approaches to rock 'n' roll. And I love Bo's character. He was just so strong and so full of fun, and yet so powerful. I mean, you wouldn't wanna mess with him."
Burdon laments that he never met Bo, revealing that the only time he ever came "face to face" with the blues-rock legend was at his 2008 funeral service, at which the Animals frontman performed.
Eric recently kicked off a series of North American concerts to promote 'Til Your River Runs , and plans to schedule more shows throughout the year. Meanwhile, 2013 also marks the 50th anniversary of The Animals, but Burdon reports that he's not planning to take part in any special reunion gigs to commemorate the milestone. The reason, he reveals, is that he recently lost a legal battle with some of his former band mates over the right to use the Animals moniker.
"[I] would probably embrace such a thing as performances, but there's no band," notes Burdon. "The remainder of the band just took me to court in London for using the name, and they won. So, I'm excommunicated from The Animals and I feel pretty bad about it, to tell you the truth."
Meanwhile, The Animals' and Burdon's label, ABKCO, has announced plans to release a special retrospective this year to celebrate the anniversary.
Regarding the situation, Eric adds, "What's done is done and, sure, the records stand by themselves, so the record company, I'm sure, are gonna do something. But, as for me, it'll just be another day in paradise."
Visit EricBurdon.com to find out more about 'Til Your River Runs Dry and to check out Burdon's full tour schedule.
Copyright 2013 ABC News Radio