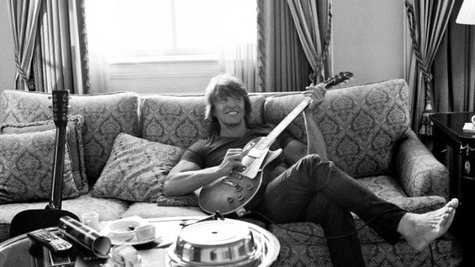 This year's Super Bowl was less than a week ago, but everyone is already looking forward to next year's, mostly because it'll be quite a feat to pull off: It's taking place at MetLife Stadium in New Jersey, which does not have a roof, and there's been plenty of speculation about what will happen if it snows. Still, that's not stopping Bon Jovi 's Richie Sambora from dreaming about rocking the halftime show at the event.
Speaking to the Hartford Courant , Sambora acknowledges that Bon Jovi's name has been tossed around as an obvious choice to perform at next year's big game. "The best-laid plans of mice and men and all that, but I'd love to do that," he tells the paper. However, it's by no means a lock, and Richie says if it doesn't happen, he won't be too bummed out.
"It would be a great thing to be part of, but with all this band has achieved, all the great things we have done and seen, it's hard to complain if any one thing doesn't happen," he laughs. "And if I did complain, I really hope no one would listen."
Bon Jovi will kick off their world tour in support of their upcoming album, What About Now , this Saturday in Connecticut. Sambora says, "We're very fortunate that after all these years, we've cultivated a humongous live audience. Our last tour, we played to something like three-and-a-half million people worldwide."
He adds, "It's pretty easy after all these years. Everybody knows their place, and we know the tunes, that's for sure. It's like putting on a comfortable coat." The tough part, says the guitarst, is to "really work out technical stuff....it's about lighting, sound, staging and that sort of thing. There's a lot of technology involved, and we have to keep up with that."
Copyright 2013 ABC News Radio