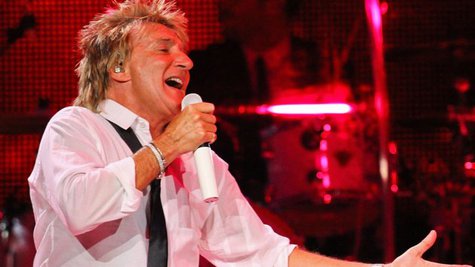 Rod Stewart was supposed to kick off a U.S. tour in April with Steve Winwood , but now the trek has been postponed. No, Rod isn't sick: he just wants to finish his new album.
A note on Stewart's official website reads, "To accommodate the finishing pre-production and spring promotion of his first original rock studio album in almost 20 years, Rod Stewart has pushed back his Spring tour with Steve Winwood -- which will now begin in October." The new tour dates begin October 17 in Greensboro, North Carolina and are plotted out through a December 15 concert in Toronto.
All tickets will be honored for the rescheduled dates; fans who want refunds will be able to get them at the point of purchase until February 22.
The last rock studio album for which Stewart wrote or co-wrote a significant amount of material was Vagabond Heart , which came out in 1991. His last two studio efforts featuring original rock tunes were 1995's A Spanner in the Works and 1998's When We Were the New Boys . In 2001, he put out an album called Human , which was more pop-leaning.
All of Rod's albums since then have been made up of covers of famous songs, either pop standards or classic rock tunes. However, his 2012 album, Merry Christmas, Baby, did include one tune that he co-wrote.
Here are Stewart's new tour dates:
10/17 -- Greensboro, NC, Greensboro Coliseum
10/19 -- Atlanta, GA, Philips Arena
10/24 -- Chicago, IL, United Center
10/26 -- Auburn Hills, MI, Palace of Auburn Hills
12/4 -- Boston, MA, TD Garden
12/7 -- Newark, NJ, Prudential Center
12/9 -- New York City, NY, Madison Square Garden
12/11 -- Philadelphia, PA, Wells Fargo Center
12/14 -- Montreal, Canada, Bell Centre
12/15 -- Toronto, Canada, Air Canada Centre
Copyright 2013 ABC News Radio