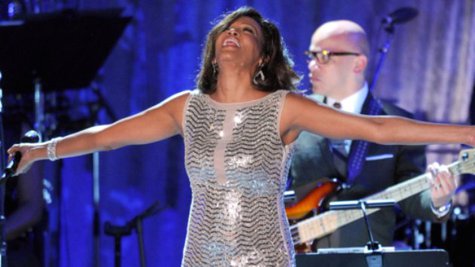 When Grammy weekend arrived last February, music's biggest stars made their usual pilgrimage to Los Angeles, where organizers were working feverishly to put what they believed to be the final touches on the 54th annual awards show.
But as we all know -- and as a new television special shows -- the direction and tone of the ceremony underwent drastic changes following news that Whitney Houston had been found dead in the bathtub of her Beverly Hills hotel room just a day before the Grammys were to air. She was 48.
With just 24 hours to go before broadcast, show producers, host LL Cool J and performers like Paul McCartney and Bruce Springsteen pulled together to make last-minute changes, and their behind-the-scenes labor of love is shown in the new one-hour special The Grammys Will Go On: A Death in the Family .
"It's the story of how our team worked together to, in a live situation... try and adjust to what had happened," says Grammy executive producer Ken Ehrlich . He appears, along with Springsteen, Eagles guitarist Joe Walsh , Bonnie Raitt and many more in the upcoming Grammy special, which premieres Saturday at 10 p.m. ET on CBS.
The program features unseen rehearsal footage and intimate interviews that give viewers a close look at the important decisions that Ehrlich's team had to make as they, too, struggled to process Houston's death. One crucial choice involved deciding how to pay tribute to "The Voice." Even tougher, the Grammy team had to quickly determine the right person to do the job.
"We went out and got Jennifer Hudson who I knew, you know, had been influenced greatly by Whitney and asked her if she would do a different version of 'I Will Always Love You,'" Ehrlich tells ABC News Radio. The result was Jennifer's unforgettable rendition of Houston's beloved Grammy-winning ballad, which Hudson ended with, "Whitney, we love, we love you."
This year, the Grammy family and Houston's own family will certainly be thinking of her, once again, during Sunday's celebration of music. The late singer's sister-in-law Pat Houston tells Entertainment Tonight that she and her husband, Gary Houston , will attend Clive Davis ' annual pre-Grammy party at the Beverly Hilton. That's the same hotel, where Whitney was found dead. She had been expected to attend the star-studded industry event, hosted each year by her longtime mentor and supporter Davis.
Copyright 2013 ABC News Radio