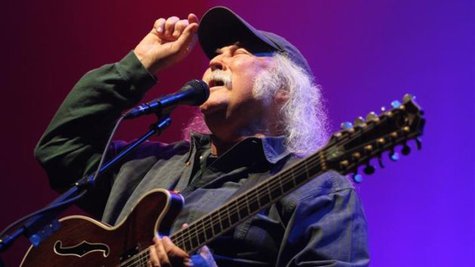 In a series of recent Twitter messages , David Crosby reveals that he's making headway on his upcoming solo album. The folk-rock great reports that during the last few weeks he's been working on the project at Groove Masters, Jackson Browne 's studio in Santa Monica, California, where he recently "cut six or seven masters." In addition, the singer/songwriter has been recording vocals at his son James Raymond 's studio.
Crosby says he's collaborating with most of Crosby, Stills & Nash 's touring band -- keyboardist Raymond, guitarist Shayne Fontayne , drummer Steve DiStanislao and bassist Kevin McCormick -- as well as with singer/songwriter Marcus Eaton and engineer Dan Garcia . He describes his sessions for the album as "probably the best recording experience of my life."
Regarding a title for the new record, Crosby admits that he "can't figure out what to call it."
During the last year or so, Crosby has been singing a new composition titled "Radio" while on tour with CSN, although it's not known if this song will appear on his upcoming album.
Copyright 2013 ABC News Radio