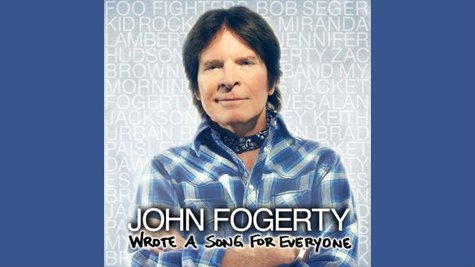 John Fogerty gives fans a little taste of his upcoming album, Wrote a Song for Everyone , in a new trailer posted on his official website and YouTube channel. The video, which runs about a minute and 20 seconds, shows the ex- Creedence Clearwater Revival frontman working in the studio with many of the stars with whom he collaborated on the project.
Among the artists seen alongside Fogerty in the behind-the-scenes clip are Bob Seger , Foo Fighters ' Dave Grohl , My Morning Jacket 's Jim James and country stars Keith Urban , Brad Paisley , Miranda Lambert and Alan Jackson . Serving as the trailer's soundtrack is the new rendition of CCR's "Born on the Bayou" that Fogerty recorded with Kid Rock for the album.
Wrote a Song for Everyone is scheduled to be released on May 28. Complete details about the album can be viewed at JohnFogerty.com .
Copyright 2013 ABC News Radio