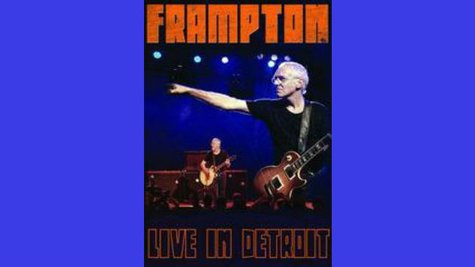 An archival video capturing Peter Frampton in concert during a 1999 show in the Detroit area will be reissued on DVD, and released on Blu-ray for the first time, on March 26. Originally issued in 2000, Live in Detroit features a stellar show the guitar whiz and his band played on July 17 of the previous year in Clarkson, Michigan, at the Pine Knob Amphitheatre (now called the DTE Energy Theatre).
The two-hour concert boasts renditions of 17 tunes, including such classics as "Baby, I Love Your Way," "Do You Feel Like We Do," Show Me the Way" and "Somethin's Happening." Backing Peter at the gig were bassist John Regan , drummer Chad Cromwell and Frampton Comes Alive! -era keyboardist Bob Mayo , who sadly passed away in 2004.
The new Live in Detroit features 5.1 surround sound audio. The video also contains some bonus material, including an interview with Frampton and an unreleased rehearsal performance of "Boot It Up" taped during the rocker's recent tour celebrating the 35th anniversary of Frampton Comes Alive!
The Live in Detroit DVD lists at $14.98, while the Blu-ray's suggested retail price is $19.98. A digital download version also will be available to purchase.
Here is the complete track list for Frampton's Live in Detroit :
"Somethin's Happening"
"Lying"
"Lines on My Face"
"Show Me the Way"
"All I Wanna Be (Is by Your Side)"
"If You Say Goodbye"
"Oh for Another Day"
"Penny for Your Thoughts"
"(I'll Give You) Money"
"Nassau"
"Baby, I Love Your Way"
"Can't Take That Away"
"Do You Feel Like We Do"
"Off the Hook"
"You Had to Be There"
"I Don't Need No Doctor"
"Gemini" (credits)
Copyright 2013 ABC News Radio