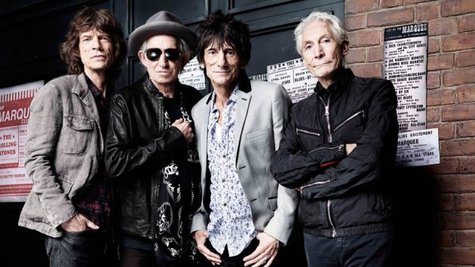 A few weeks back, Mick Jagger beat around the bush when asked by music magazine NME if The Rolling Stones ' upcoming plans included a performance this summer at the U.K.'s massive Glastonbury Festival . While the band still has yet to confirm any concert appearances, guitarist Ronnie Wood apparently is all for The Stones playing the music extravaganza, which will take place June 26-30 in Pilton, England.
According to The Telegraph , when Wood was asked Monday at a London awards event about the possibility of The Stones appearing at Glastonbury, he responded, "Wouldn't it be nice. We've got a meeting next month and that's going to be my first question to them."
He added, "It's something I've always been interested in. I'm going to twist their arms."
Wood also said that after playing a handful of shows at the end of 2012, he's very eager to return to the road with the band. "I've got lots of high hopes this year," he declared. "Now that were all rehearsed -- let's get it cracking this summer!"
In addition, the 65-year-old rocker talked a bit about how things are going with his new wife, Sally Humphreys , who he married in December.
Wood reported that he'd just returned from his "perma-moon," which he and the 34-year-old theater producer spent on the island of Mustique.
The guitar great noted about his third wife, "I didn't think I was going to get married again, but Sally's special and it's like being married for the first time," adding that she's a "great person to hang with."
Regarding the marked age difference between he and Humphreys, Wood maintains, "She bridges the gap. She likes to take care of the old and infirm. But that's why we married."
Copyright 2013 ABC News Radio