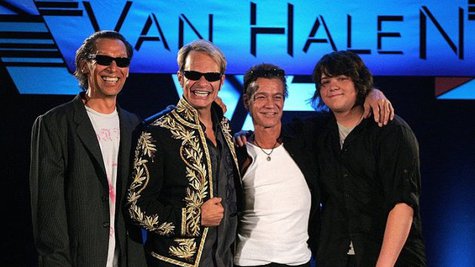 David Lee Roth says he's frustrated by Van Halen 's current touring situation, and also about the lack of new music the band is creating.
Speaking to RollingStone.com , Diamond Dave said, "I would certainly look forward to working with Ed [ Van Halen ] on some new material, but we have yet to do that."
Roth notes that "almost all of the music that you hear on our most recent album was written and demoed before the first album," and adds, "I would certainly look forward to writing a whole list of songs with Ed, but we haven't found the time to do that…truth be told, Edward and I haven't written a new song in 20 years."
Roth also wants to expand Van Halen's touring itinerary. "How long have I been back with the gang?" he asks. "Maybe six years...and we have yet to travel to Europe, South America, Japan, anywhere outside of those basic 50 cities in the United States. And again that's been a disappointment."
In addition, Roth believes that Van Halen should be taking the stage at all the big music festivals, in order to capture a new generation of fans.
" Alex [Van Halen] and I have been begging to become part of that," says the singer. "We're back knocking on the doors begging for Bonnaroo and begging for Lollapalooza and Coachella, not even as an advancement of career, but there's a whole new audience who doesn't know and doesn't give a sh** about Van Halen, and that's exactly the best audience to sharpen your spirit on." He adds, "I can't wait for those opportunities...I'll be very curious to see where we wind up come next season. "
Finally, Roth says he's upset that there have been no discussions about a reunion with original Van Halen bass player Michael Anthony , whose singing voice, Roth believes, was an integral part of their sound. "I would always look forward to that reunion, and I would always look forward to writing a whole variety of material," he tells Rolling Stone, adding that he's invited all of them to come visit him in Tokyo, where he currently lives. "But so far," says Roth, "there hasn't been any response."
Copyright 2013 ABC News Radio