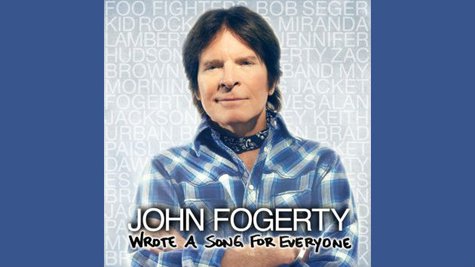 John Fogerty was on hand Tuesday at an intimate, invite-only listening party for his new album, Wrote a Song for Everyone , held at New York City's famed jazz club The Iridium. The two-and-a-half-hour event was hosted by veteran music journalist and TV producer Bill Flanagan , who chatted with the rock legend about each song on the upcoming release, which mostly features re-imagined versions of his memorable Creedence Clearwater Revival compositions recorded as duets with an impressive list of other music stars.
The festivities began with an introductory video narrated by Fogerty in which he recalled his experiences during the Vietnam era that inspired him to write the CCR classic "Fortunate Son." Fogerty and Flanagan then took the stage and began a track-by-track playback and Q&A session, starting with John's new rendition of "Fortunate Son," which features The Foo Fighters .
Fogerty shared many interesting anecdotes about each tune, including recollections about writing the different songs, and stories about working with his various collaborators.
Speaking about the new version of the title track, which features guest vocals by Miranda Lambert , Fogerty recalled how he first became aware of the country star after hearing her 2008 hit "More Like Her," which he initially thought was a classic vintage country tune. He also explained how he decided to get Rage Against the Machine 's Tom Morello to play on his track after Lambert suggested during her recording session that the middle of the tune called for a "face-melting guitar solo."
As for Fogerty's new rendition of "Lodi," which features his sons Shane , 21, and Tyler , 20, he said, "Nothing could be cooler than playing with my kids." He also said Shane and Tyler were "far better [musicians] than I was at the same age."
Then there was "Have You Never Seen the Rain," which boasts booming guest vocals by country great Alan Jackson . Fogerty declared that he was "so thrilled and honored to have" Jackson on the album, comparing it to "having Lincoln on my record."
The listening party also featured the premiere of two brand-new Fogerty originals that appear on Wrote a Song for Everyone . The first, "Mystic Highway," begins as a Pure Prairie League -meets- The Doobie Brothers mid-tempo country rocker that veers into an unexpected psychedelic interlude before going back to the country. The second, "Train of Fools," is an ominous blues-rock number Fogerty says he pushed himself to write over the course of one weekend as he was facing a recording session deadline.
The album's final cut on Wrote a Song for Everyone is an imaginative reworking of the CCR standard "Proud Mary," featuring vocals by Jennifer Hudson , piano by Allen Toussaint and additional instrumentation from the Rebirth Brass Band . The track boasts a variety of New Orleans-based musical styles, something Fogerty revealed was suggested by his wife, Julie . Hudson, meanwhile, delivers a powerful performance reminiscent of Tina Turner 's famous version of the song. Fogerty said he was "in awe" of Hudson's vocals and "totally knocked out" by the way the recording turned out.
Bringing the event to a close, Fogerty treated the 30 or so press members left at the club to a rocking solo rendition of "Fortunate Son."
Wrote a Song for Everyone is scheduled to be released on May 28, and can be pre-ordered now at iTunes and Amazon.com. Visit JohnFogerty.com for more details about the album.
Copyright 2013 ABC News Radio