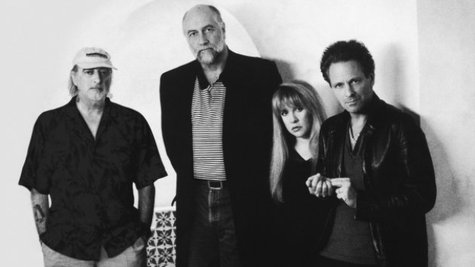 Fleetwood Mac is getting ready to hit the road in April for the first time in several years, and drummer Mick Fleetwood says fans can expect to hear all the hits they've come to love as well as some surprises.
In a new video interview with Billboard , Fleetwood explains, "We're putting together a great show that is going to be exciting for us, and that means that we [will be looking at playing] songs that we've never done or haven't done for a long time [as well as] a couple or three things that are actually new."
Regarding the new material, singer/guitarist Lindsey Buckingham tells Billboard that he began recording two of the three new tunes last year with Mick and bassist John McVie while Stevie Nicks was doing her solo tour, adding that "when Stevie got off the road, she came over to my house and sang on those." Buckingham says he and Nicks "had the best time we'd had in years" doing the sessions.
Fleetwood Mac's plan is to release the new tracks digitally before the tour gets under way, and the band isn't sure if a full-length album will follow.
"Big, long albums don't seem to be what everybody wants these days," Nicks tells Billboard . "So we thought, well, let's go the other route."
Stevie adds that if Fleetwood Mac gets a positive reaction to the new tunes, "and if feels that [fans] do want another 10 songs, we can reassess."
Buckingham, meanwhile, reveals that the band does "have some more material waiting in the wings," in case they do decide to record a new album.
"We'll see what happens," he says, "but this seemed like the right thing to do for now."
Fleetwood Mac's North American tour kicks off on April 4 in Columbus, Ohio.
Copyright 2013 ABC News Radio