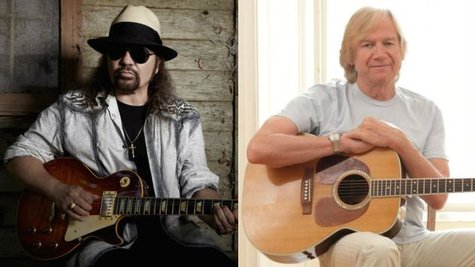 With Valentine's Day upon us, some notable rockers are sharing their plans and feelings regarding the holiday, as well as sending out some wishes to their fans.

Lynyrd Skynyrd guitarist Gary Rossington sometimes spends Valentine's Day on stage with his wife, Dale , because she happens to be one of the band's backing singers. Rossington notes that some musicians might find it difficult touring with their spouse, but for him and Dale "it's fun."
As for his plans for the holiday, the Southern rocker says, "I just hope to give her some roses and hope we have a good gig that night." Actually, we hope Gary double-check's Skynyrd's tour schedule, since the band's next show will be Friday, the day after Valentine's, in Biloxi, Mississippi.
Rossington also says he hopes his group's fans have a happy Valentine's Day, while Skynyrd frontman Johnny Van Zant sends out his own holiday wish to everyone, including "all the ladies."
Moody Blues singer/guitarist Justin Hayward , meanwhile, says he's happy that his band doesn't have a concert scheduled for the holiday, "so that there's no pressure on us to do anything in the show that gives a nod to that." Not that the veteran rocker has anything against Valentine's Day, which he says is a day "for lovers and people who want to reaffirm their feelings."
He adds that he thinks Valentine's Day is "great," while declaring that there "should be more days like that in the year."
Copyright 2013 ABC News Radio