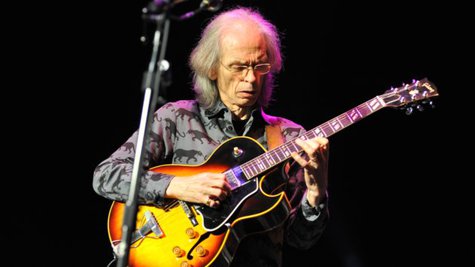 Yes guitarist Steve Howe is set to join the ranks of famous music artists that host their own themed summer camps. The prog-rock virtuoso's inaugural Cross Styles Music Retreat will be held from August 19 through August 23 at the Full Moon Resort in Big Indian, New York.
Guitar players of all ages and skill levels are invited to attend the camp, which will offer a variety of workshops led by Howe and other accomplished musicians. Featured topics include songwriting, recording and playing live. In addition, Steve will give performances and participate in Q&A sessions and meet-and-greets.
"This year I'm getting back to doing some solo dates, and the Cross Styles Music Retreat is an extension of that," Howe explains in a statement. "I'll be enjoying the different things the event will demand of me, as opposed to just doing shows. It's a wider breadth of 'guitarness,' and it indulges me in my singular fascination -- the guitar."
Other guitarists who will share their musical know-how with campers include the classically trained Flavio Sala and jazz aficionado Ray Matuza . Also, Martin Guitar archivist Dick Boak will give a presentation about the famed guitar company.
Prices for the Cross Styles Music Retreat begin at $1,195, and includes accommodations, access to workshops and seminars, meals, performances and other activities.
Copyright 2013 ABC News Radio