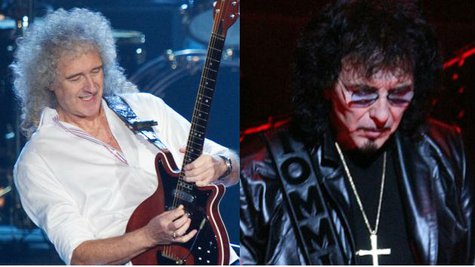 Two of the rock world's most esteemed guitarist, Queen 's Brian May and Black Sabbath 's Tony Iommi , apparently are planning to collaborate on a very interesting album project. According to May's official website , the Queen guitarist revealed in a new Q&A with Kerrang! magazine that he and Iommi have discussed putting together a collection that compiles riffs Tony has archived so that musicians can use them to "build their own songs."
In the article, May shares details about the proposed album in response to a query from Iommi -- whom Brian refers to as his closest friend in the music business -- about when they might start work on the project.
Writes May, "The record he's talking about was supposed to be a secret but I guess he's blown it now! Whenever I've been in the studio with him, I've noticed that he's always got piles of stuff which he doesn't use. And it's really great stuff."
May adds, "I thought it would be great to make a compilation out of them," then suggests that fans could "make [their] own music with Tony Iommi on guitar."
No word yet on when, or if, the album will see light of day.
Copyright 2013 ABC News Radio