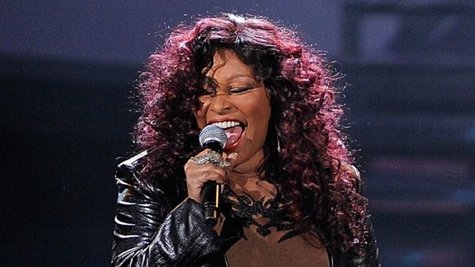 On Thursday, Chaka Khan released a brand-new digital single titled "It's Not Over" to coincide with Valentine's Day. The song features Grammy-winning Christian hip-hop artist LeCrae . Two separate versions of the tune are available, an urban version and a pop-dance remix by the production team Papercha$er .
"It's Not Over" will be among the tunes included on Chaka's The iKhan Project: Commemorative Limited Edition CD, which is due out on April 30. The album, which also will include some of Chaka's biggest hits, will serve as the first installment of her iKhan Project , a series of albums featuring various musical genres that the funk/soul diva is planning to put out this year in celebration of her 40 years in the music business. Khan currently is working on a collection of jazz tunes that's expected to hit stores in the summer.
Meanwhile, a new gospel song by Khan titled "Keep Walkin' (Find My Shoes)," will be heard at the end of the new Lifetime movie Pastor Brown , which airs Saturday at 8 p.m. ET. The tune will hit be released to gospel and urban radio stations later in February, and also will appear on The iKhan Project: Commemorative Limited Edition album.
Khan's busy year also will include a soon-to-be-announced trek dubbed the I'm Every Woman World Tour, that also will feature performances by a number of other of female artists.
Copyright 2013 ABC News Radio